Underwater experience with Aquarium Trek®
Things to do in Cancun: Submerge yourself, touch and learn!
With Aquarium Trek® your vacations will be unforgettable!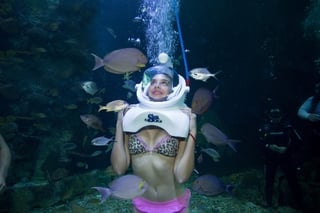 Aquarium Trek is a family activity that can be performed by adults as well as teenagers over 8 years of age*. If you do not know how to swim, don't worry, it is and experience similar to walking on the moon, your hair will not get wet, you may even use eyeglasses or contact lenses and don't worry about the make up, it will stay on its place.
Relax and enjoy in Cancun, Sea-Trek® equipment will allow you to walk and breathe naturally, in fact, is easier than snorkeling because you do not use a mouth piece to breathe.
> Learn more about the experience in this article.
For a better experience, there is a previous briefing before the trek that lasts 10 minutes. The experience lasts around 20 minutes, and once in the water, certified divers will help you and assist you the whole time.
• Schedule: Every day of the week, and every hour starting from 11:00 AM until 17:00 PM.
• Capacity: Up to 8 people per schedule.
• Duration: 30 minutes, 10 minutes of introduction and 20 minutes in the water. • Restrictions: Must be 8 years old* or older to perform this activity.
• Species which you can interact: Shad, Orange tail

triggerfish

,

Sea robins

, Pepper surgeon fish,

Moorish idol

, African surgeon fish,

Blackspotted puffer

,

Filefish

, Foxface rabbitfish,

Ring-tailed surgeon

fish,

Cownose ray

, Y

ellowtail kingfish

and L

ongfin spadefish

.
It is important to mention that, upon arrival at the location, minors will be evaluated if they meet the minimum size and shoulder width for the Sea-Trek
®
equipment. The age is suggested for children due to the dimensions and weight of the equipment.
It includes:
• Access to the Aquarium + Aquarium Trek with Sea Trek® equipment
• Sea Trek® equipment
• Wetsuit
• Shoes
• Towel
• Showers, dress-up areas
Does not include:
• Transportation
• Interaction with dolphins
• Photos (They can be purchased at the interactive Aquarium Store Cancun)